Volunteer benefits and fun stuff:
Besides the warm glow you get from helping someone in need,
  The gratitude of people whom you can help:
---
"We would like to thank you for the wonderful quilts made by Sally Morgan - New Carlisle, OH. We have identical twin boys in the NICU at EMMC in Bangor, Maine. Willaim + Benjamin are doing very well! We hope to have them home soon! Your organization does such a wonderful thing! ...Continue the wonderful service that you perform. Thanks again, Robin, Billy, William Jr + Benjamin"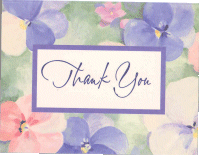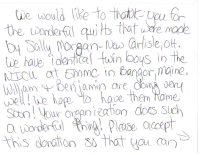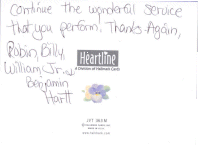 ---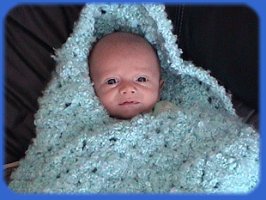 I just wanted to take this opportunity to thank you for all your hard work at NICU. In January, our son, Wynter was born three and a half weeks early. He only weighed four pounds, 12 ounces and was immediately placed in NICU.
It was a very difficult time for my husband and I- like most NICU parents. It was difficult to see this tiny being hooked up to all those monitors, with an iv in his little hand. It was such a sterile site, we were afraid to touch him at first.
But then, we noticed the hat on his head. You could tell it was hand-knitted, white with a blue pom pom. He looked SO cute in it, and more importantly, so "normal." Then we took a closer look at the blanket covering his isolette- it was a beautiful quilt with bright colors and vivid patterns. A similar quilt was also used to keep our little guy warm in the coming days.
We soon learned they all came from your organization, and were made by volunteers. The thought of a stranger taking time out of his or her busy schedule to make these items for our son was beyond words. The hats, quilts and most importantly love that went into making them gave us such comfort during those trying days.
Our son is now almost two months old, and thriving. He's doubled his weight since birth and grown to 21 inches. That hat he wore the first day in NICU is now much too small for his head, but it's been carefully wrapped and placed in a keepsake box, along with his hospital tag and birth certificate. And when he's old enough to understand, we're going to make sure he knows how the kindness of strangers can make even the darkest days seem a little brighter.
Thank you again!
Sincerely,
Chris, Joy & Wynter Zakariasen

---
Last Updated