Concord, Massachusetts
Thursday, August 9th 2001
Read an article about our Emerson delivery at townonline!
Jr. Girl Scout earns her Leadership Pin and Badge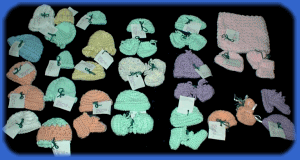 These items were donated by a 10 year old Jr. Girl Scout who selected TLC as her project in order to earn her Leadership Pin and Badge.
She had recently learned how to crochet and wanted to put her newly learned talent to the best use possible and decided after her mother found the website of TLC to earn her Pin and Badge by participating with TLC.
In addition to making the items, she encouraged all of her fellow troop members to donate yarn to the cause, which she then made the items from the yarn donated.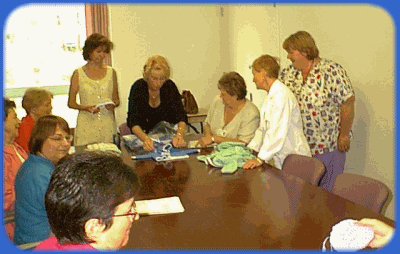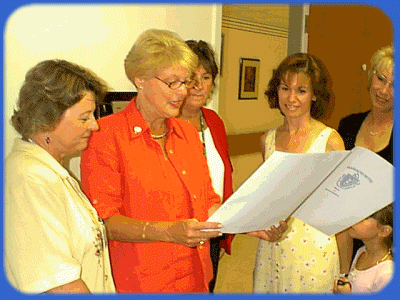 Massachusetts State Representative - Susan Pope - was there and even gave a citation congratulating Emerson Hospital for being chosen by TLC for Angels for a presentation!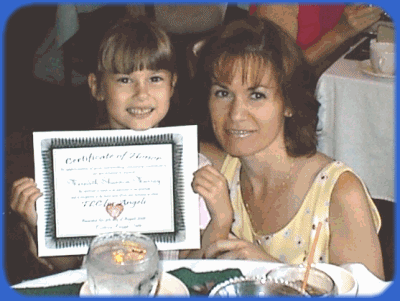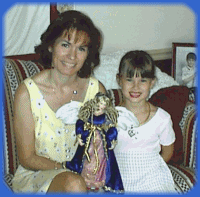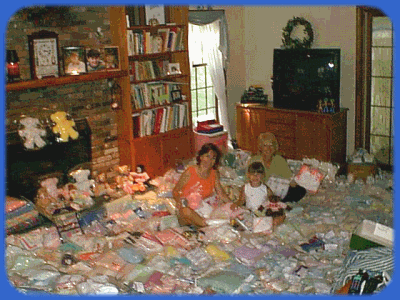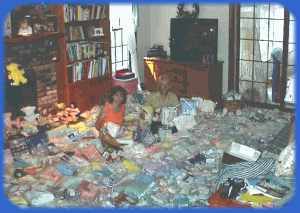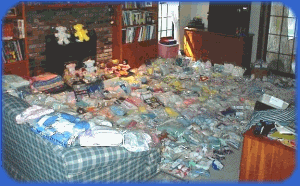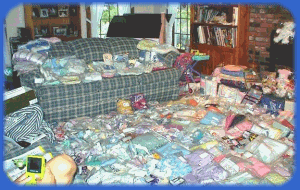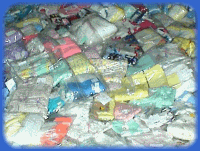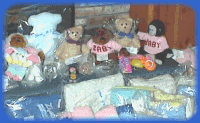 Inventory - July 11, 2001
118 afghans
172 hats
39 hat and bootie sets
29 bootie sets
23 sweater and hat sets
18 gown & hat sets
15 gown, hat, booties sets
15 sweaters
14 bibs
14 hat & blanket sets
10 crocheted washcloths w/Ivory soap bars
9 preemie gowns
5 newborn hat, bootie, sweater, blanket sets
5 newborn mitts
5 newborn sewn blankets
5 preemie hooded blankets
5 sweater, hat, bootie sets
4 hat, bootie, blanket sets
4 pacifiers in package
4 preemie receiving blankets
4 quilts
4 socks preemie
4 washcloths crocheted
3 crochet dogs
3 flannel sewn bears
3 pair mittens
3 preemie buntings
3 overalls, sweater, hat, booties sets
3 stuffed gorillas with sweaters
2 blanket, bear sets
2 "butterfly" shirts newborn
2 coupons
2 crayon/book/holder sets
2 keepsake pouches & contents
2 sleeping sacs (blankets)
2 sweater bootie sets

1 boy vest-gown & hat set
1 child's hat & mitten set
1 crochet bear
1 fish toy set
1 flannel blanket
1 hair bow set
1 overalls with sweater set
1 overalls, sweater, shirt, blanket set (waiting for booties)
1 newborn cross-stitched onsie (w/hole for monitor)
1 newborn hat, sweater, blanket set
1 newborn gown, hat, bootie, blanket set
1 preemie dress
1 preemie hat, bootie, blanket set
1 preemie vest gown
1 purchased frog sleeper
1 purchased long-sleeved t shirt
1 purchased newborn shirt, shorts, bib, burp cloth
1 purchased onsie
1 purchased preemie dress and panties set
1 purchased preemie nightgown and hat set
1 quilted bonnet
1 set boy afghan, hat, booties, sweater, sleeper
1 set girl dress, hat, booties, tights
1 set newborn twin outfits
1 size 2T lavender sweater
1 size 4T sweater/hat set
1 sm felt doll
1 small flannel kimono
1 sm stuffed bunny
1 sweater, pants, bootie set
Beadie Buddies made by children!
1026 Items! Thank you everyone! :)
A Note From Jan Quinty, the Public Relations person at Emerson Hospital
Hi Debbie (our coordinator for this project),
So good to hear from you. The photos on the website are just great! I can't believe what your family room looked like. What a lot of organizing you had to do to get ready...
Rep. Susan Pope's visit was certainly a surprise--to all of us. I believe if the Concord Journal or Sudbury Town Crier knew ahead of time that she was coming, they would have showed up as well, but it was great that they did a story earlier.
Thank you again for your wonderful presentation with Vicki Knapp. And thanks to all the hard work done by all the volunteers, as well as the contribution of your family. TLC for Angels is truly a wonderful organization!
Jan Quinty Emerson Hospital
Last Updated