Tidings of Love for Children
Volume 1, Issue 1  Spring 2001
Greetings, and welcome to the first issue of "Tidings of Love for Children"! TLC is the quarterly newsletter of TLC For Angels, a Non- Profit Organization registered in the state of New Jersey. We are in the process of obtaining our 501(c)3 IRS approved status.
We are very proud and excited about the success of our organization, which is officially one year old!
Our 90+ volunteers are located in 25 states and 3 other countries. They have worked hard and have been very generous in donating their creations for our past presentations and are dedicated to making our future projects equally successful.
We started with Southside Hospital in Long Island, NY in October 2000. Followed by Gulf Coast Center in Fort Meyers, FL in December 2000; and St. Joseph's Hospital in Patterson, NJ in April 2001.
Look for more information about past, present and future presentations in this issue. Also, meet our board volunteers, view original patterns and much, much more! Until next time… Julie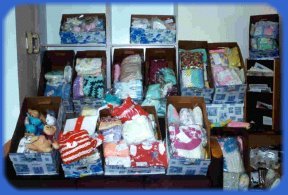 TLC For Angels was founded in January, 2000 and began preparing for its first presentation in June. On October 16, 2000, Southside Hospital of Bay Shore, NY was presented with an overwhelming donation. The hospital staff was in awe at the number of items received, including hand made buntings, quilts, girl and boy outfits, blankets, sweater sets, hats, booties, etc.
The 2000 Christmas project was also a success. Volunteers were paired with residents of the Gulf Coast Center , a home for mentally handicapped in Fort Meyers, FL.. again, the staff was surprised at the quantity of items received for the residents, each item made with love. Each resident received their gift from Santa, which made the day as memorable for them as it was for Santa and his helpers.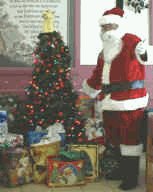 This was a rewarding experience for the TLC volunteers, as they realized how special the residents of Gulf Coast Center truely are.
Our next presentation was at St. Joseph's Hospital in Patterson, NJ. We came to realize that this would be of particular interest to one TLC volunteer, Terry Mroz, whos grand daughter is a long time patient of the hospital where she receives care for type 1 diabetes. We named the presentation "Rhiannan's Gift of Love" in her honor. (Additionally, Terry is our featured volunteer in our volunteer spotlight column in this issue).
The St. Joseph's presentation was educational and equally rewarding. The TLC volunteers who attended were given a tour of the neo-natal department, and each was given a tiny diaper used for premature infants. Sometimes, even these tiny diapers are too big.
Once again, the hospital staff was surprised and in awe over the size of the donation they received.
As one project comes to an end, another one immediately begins.  Each project is given a 4 month working period from beginning to presentation.  There is a lot of work to be done even after the Host volunteer receives the items to be donated.  Each item is tagged by the donor, according to size, gender of the recipient, and logged into a ledger for our non-profit IRS status.
We are currently in our working period for Emerson Hospital of Concord, Massachusetts. A non-profit facility founded by Charles Emerson in 1911, Emerson Hospital runs on the principle that "Outstanding medical care is vital to an individual's health and essential for a community's well being."
Today Emerson provides medical services to anyone in need, regardless of his or her ability to pay.
Donations can be mailed to our Hostess for this event:
Debbie Murray
P.O. Box 255
Sudbury, MA 01776
Mailing date: June 30
Delivery date: will be secured for sometime in July.
Requested items: anything a child might need, from the smallest of preemies to children sizes.
"Tagging and Bagging"
In order to make the logging process easier for the host volunteers, and to aid the hospital staff in finding what they are looking for, please use these examples as guidelines:
Each item or set should be placed in a clear plastic bag with an adhesive label on the outside of the bag telling what is inside, the size the item is, and the gender of the child it is intended for.
Such as:
· "6-8 pound GIRL newborn hat and booties"
· "BOY afghan, hat, booties, sweater, sleeper suit, 0-3 mos."
· "6-8 lb GIRL newborn hat"
· "0-3 lb BOY newborn booties"
Please also include your name ( &/or screen name/e-mail address) on the label.
Long Term Goals:
TLC For Angels Trustees and Board volunteers would like to see the organization expand to the capacity of having different divisions nationwide.
Being non-profit, we would like to see the monetary donations increase enough to have a "Burial Fund" which would help parents who are in need of extra assistance to provide a proper burial for their precious little angel.
We will strive to make each presentation a success and will work diligently toward our goals!
Upcoming Projects:
Eastern Maine Medical
Bangor, ME
Start Date: July 1, 2001
Delivery date: Oct. 2001
The fourth working period for this year involves two projects.
Start Date: Oct. 1, 2001
Mailing Date: Dec. 31
1. Tyrone Hospital
Tyrone, PA
Coordinator: BJIAAN
This hospital is small and will not need the quantity we normally produce. This is the reason for having two projects.
2. "Comforting Special Angels"
Coordinator: Eleanor Wells
Eleanor not only runs her own charity organization but is a very active contributing volunteer of TLC For Angels. Comforting Special Angels provides afghans to Special Needs babies while they are hospitalized. More information can be found at their web site: www.jesusone.com/babies.htm
Donors are welcome to choose to create items for one of the two projects, or both. Mailing addresses to be posted at a later date.
Plans for 2002 are in the works! Prospective projects include Jacobi Medical in Bronx, NY and Cabell Huntington Hospital in Huntington, WV.
Vicki Knapp, Trustee
I am married, age 50, mother of 4,step mom of 2 and grandma of 2. My first craft passion is sewing and machine embroidery, and my second passion is crocheting which I learned when I was 20. My true passion is to make a difference in the lives of many babies.
Nancy Gallo, Trustee
Married, mother of 4, grandma of one, taught myself to crochet in my late teens. Recently my best friend gave me a knitting machine and I am also getting hooked on that. Crochet is still my favorite. If there is a string lying around, I will think of something I can crochet it into!
Kaye Hardin, Trustee
Married, mother of 2. I taught myself to crochet because Momma couldn't. I love just about all crafts except tatting and counted cross stitch. I have been involved with TLC from the beginning. Vicki and I met through an online Friendship Crochet afghan square exchange.
Melissa French, Dir. of Public Relations
www.netcastles.com I run Netcastles and offer free web site design for charities. I live in Rochester, NH with my husband and two children, Andy and Linda. (Thank you, Melissa for all you have done for us, you are appreciated!)
Julie Saltz, Dir. of Publications
I am 35, mother of 3, step mom of 2. My grandmother taught me to crochet when I was 13. Fashion doll gowns and doilies are my favorite things to make, anything in thread, but baby items are the most rewarding.
Debbie Murray, Dir. of Research
I just hit the big 4-0 and have 3 children. Married for 17 yrs, crocheting since I was 11. Mom taught me with thread and we designed our own filet doilies! I dabble in many crafts. Some favorites; counted cross stitch, crochet, and decorative painting.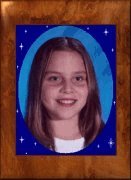 Hello all my cyber friends! My name is Terri, aka Nanna12. I have been online for almost 5 years and have met many wonderful people. Especially the "Crochet Friends". I have lived in New Jersey for 73 years, been married for 53 and survived raising 5 daughters and have 13 grandchildren! When I retired, I went back to my old hobbies – oil painting and crocheting. I am a certified ceramic teacher and owned and operated a private studio for 25 years. After teaching ceramics for so many years I decided to go back to work and found myself in an office processing orders. (My first experience with computers.)
I started crocheting at the age of 11 and made handkerchiefs as my first project, tatting with a needle. At the age of 45 I really got into crocheting afghans, mostly as donations for Memorial Sloan Kettering Hospital in New York. When I started with TLC I was very impressed with the vigor and zest of all the volunteers. I've contributed to all projects, but the most important one for me was St. Joseph's. I couldn't believe that TLC had chosen the hospital where my granddaughter is being treated at for Type 1 Diabetes. Rhianon is seen at the hospital about once a month, as her diabetes is out of control.
When I was asked to go to the presentation at St. Joseph's, I never imagined what a successful campaign it would be. The outpouring of charity from all volunteers overwhelmed me.
Rhianon was very impressed with all of the beautiful things that were made, and she will never forget that very special day! I felt high on life myself, as it was an amazing experience! I hope that TLC carries on for many years to come. Vicki has worked endless hours to make this charity a big success, and has done a wonderful job.
Keep on hooking ladies-it's worth the effort!

Because TLC For Angels volunteers use the internet and e-mail for their primary source of communication, this section is dedicated to providing internet addresses for patterns and information. Internet use is not required to be a volunteer or to participate in our projects. Our contact information is on the last page of this newsletter. (Note: Public Libraries usually have internet access available for public use.)

KNITTING

A collection of knitting information. Including listings of more than 2000 knitting suppliers... http://www.woolworks.org/
The Knitting Guild of America: http://www.tkga.com/
The Free knitting patterns net ring: http://www.geocities.com/Paris/9197/knitring.htm

KNIT AND CROCHET

Many links for both crafts: http://www.thefamily.com/countrycottage/charity/

CROCHET

This pattern is for a baby doll towel, but looks like it could easily be used for a preemie! http://www.crochetnmore.com/dolltowel.htm
Baby doll in a bassinet that you pull a drawstring to hide: http://www.geocities.com/judyjordan44/
Quick & easy "N" hook blanket: http://crochetmusings.freeservers.com/pats/naqandenhkbl.html

SEWING

"For sewing supplies, free patterns, ideas and other sewing related projects for a great sewing information resource" http://www.cellwarp.com/users/sewing/index.html
Sewing for Preemies: http://members.aol.com/mypreemiepattern/Page1.html
#1 - Very Preemie Hat, Designed by BJIAAN
Hat measurements:
Top to Bottom (including the brim) 2-5/16 inches
Side to Side: 1-15/16
Inside hat width: (size of head it will fit) approximately 4 inches
Materials:
Hook Size: E
Yarn: soft creations by TMA 4 ply
All work was done in the back loops, to give it texture and design.
Chain 4 and slip stitch to first chain to form a ring.
Row 1: Chain 3 and dc in same stitch, 2 dc in each stitch around. Sl st to first dc (8 dc)
Row 2: Chain 3 and dc in same stitch as the ch 3, dc in next 2 stiches, 2 dc in next stitch* Repeat from * to * around. Sl st to first dc
Row 3: Chain 3, dc in each stitch around, sl st to first dc
Row 4: Chain 3, dc in each stitch around, sl st to first dc
Row 5 and 6: (makes the brim turn up) ch. 1 sc in each stich around, sl st to first sc, finish off.
#2 - Teeny Tiniest Booties, Adapted by Debbie Murray
Materials:
*Baby Sport yarn – one main color, very small amt. for trim, if desired.
*Size G hook
Or
Use whatever yarn and hook you'd like. These are tiny booties. If you want them bigger, use worsted yarn and a larger hook, etc. *Small amt. of ¼ or 1/8 inch ribbon in contrasting color.
With main color, ch 6
Rnd 1: dc in 3rd ch from hook (first two ch will be considered first dc), dc in the next 2 chs. 3 dc in end ch. Working in unused loop on opposite side of ch, work 1 dc in the next 2 ch, 2 dc in last ch. (11 dc) DO NOT JOIN OR TURN
Rnd 2: Sc on top of beg ch. [Place marker to mark this as first stitch]. Sc in next 4 dc. 3 sc in next dc, sc in the next 4 dc. 3 sc in last st. (15 sc)
Rnd 3 & 4: sc around, moving marker to keep place
Rnd 5: sc around, but work 2 sc in last stitch. (16 sc). Ch 1, turn.
Rnd 6: 2 sc in first sc. 1 sc in each of the next 3 scs. Work 4 sc decreases in the next 8 scs (to decrease, pull up a loop in the next 2 stitches, yo, pull through all loops), 1 sc in each of the next 3 scs, 2 sc in last sc. (14 sc) Ch 1 turn
Rnd 7: Sc in the next 6 scs. Dec over the next 2 sc, 1 sc in each of the remaining scs. (13 sc) Ch 2 turn
Rnd 8: 2 hdc in first sc. 1 hdc in the next 5 scs. Work 2 hdc in next sc. 1 hdc in the next 5 scs. 2 hdc in last sc. (16 hdc) Ch 1
Rnd 9: This is the trim round. Change to coordinating color yarn, if desired.
If this bootie is for a boy, do reverse sc around (sc in the stitch to the RIGHT of the one you're in. It's awkward at first, but a very, very nice trim – try it!).
If this bootie is for a girl, do this: Ch 2, *skip the next hdc, sc in the next, ch 3, sk one hdc, sc in the next, ch 3. Repeat from * around. Finish off and weave in all loose ends.
To add the ribbon, thread ribbon with a yarn or tapestry needle and weave it through the openings in the hds in Round 8. I make the ribbon tie in the front, but it's cute tied in the back as well.
Hook and Needle Care:
Clean with Q-tip dipped in rubbing alcohol, dry and coat with bee's wax and buff in. (make sure no bees wax residue is left in crochet hook area) Your work will be much smoother, and the hook will last much longer! All hooks and needles should be stored in a protective pouch when not is use.
Patterns:
It is always a good idea when possible to make a photo copy of your original pattern to work with. Clip your copy to a clipboard with a pen attached so you can easily make notes along the way. After your project is finished, paperclip the copy to the original so you have your notes ready the next time you wish to use that pattern.
Blocking:
Small pieces can be dried on styro foam, using rust proof pins to hold in place. Cardboard covered with aluminum foil or wax paper works well too. Dampen the piece, and smooth into shape from the inside out.
Go to http://www.remycrafting.com/ to sign up for crafting tips and tricks via your e-mail box. This site offers general crafting tips, woodworking tips, Knitting tips, quick and Easy Crafts, **Free Knitting Patterns**, Painting tips, sewing tips, etc.
Another great site full of links to information, including tips for numerous crafts and household tasks is mhpc.b0x.com/mhpctips/mhpc_tips.htm (note: that is a zero .. "b0x")
One more site for tips: http://www.suewarden.com/class/classroom_crafting-tips.htm
Have a tip or trick you would like to share? E-mail RandJSaltz2@aol.com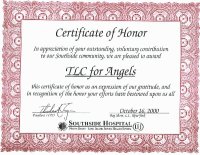 TLC For Angels has been nominated by for the NJ State Resolution, which is an award given to organizations in order to thank them for bringing honor to the state. We are very honored to have been nominated, and extend our thanks and appreciation to Shawna Adams and "Just Say Thanks" of Montville, NJ!
TLC For Angels has been the feature of several written news articles, press releases and one TV News Spotlight. We look forward to more success and publicity as we continue to grow.
Southside hospital of North Shore-Long Island, NY awarded us with a certificate of honor for our donation presentation at their Maternity Center.
THANKS!!
TLC Trustees and Board volunteers wish to extend their thanks, appreciation and gratitude to each and every volunteer for the generous contributions they have made for each presentation. Thank you also to those volunteers who have served and those who will serve as hostess at our presentations. Your time and talents are appreciated!!
Last Updated