To Participate in our Program:
Become a Volunteer ~ Kids Can Help ~ Benefits and Fun Stuff ~ Angel Cache
Current Project ~ Upcoming Projects ~ Tender Loving Care for Angels Newsletter
Hospitals are selected from volunteer suggestions. TLC for Angels donates to four hospitals a year.
Become a volunteer of our Yahoo Group (optional). The latest information and updates are available here. Our group has a message board, links, and a weekly chat for our volunteers. Also check Angel Arrows for prayer requests regularly.
Select an item to make. You can use your own patterns and ideas or use one of ours. Check the current project for needs, like blankets, hats, booties, sweaters, etc... anything that a baby can wear home.
If you want to help but do not do crafts, you can always donate material or yarn for making the items. You can also make an Angel Cache package, filled with useful store-bought items for a new mom and her baby.
Collect coupons to send with your item (optional). Keep the project delivery date in mind when selecting coupons that expire. Search for coupons for disposable diapers, formula, baby food...etc.
Create item.
Ship to the designated volunteers for the current project :
Wash item if desired, following instructions on the yarn packaging. Dry thoroughly. Place in clear plastic or zip lock bag. Place a tag on the item or a sticker on the bag with a short description, like "Girl's Layette Set, Size 6 months," and whatever info you would like to recipient to have, like your first name and town and state. Please include your name, address, and email address with your contribution so we can give you credit for your donation. If you do not label the bag your item is in the coordinator will label it for you. To the right is a picture of the tags placed on items.
Print our brochure to give out at a local event or to send to a friend, or put up our flyer with tear-off tabs at your local shopping center (with their permission). (Word doc)
See our idealist.org or Volunteer Match listings for other volunteer opportunities
Note for preemie donations:
Here are the measurements for a preemie diaper, just to give you a picture: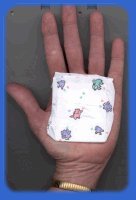 2 inches wide, and 5 inches long, you fold the 5 inches in half to make the diaper, so then the lentgh becomes 2 1/2 for the front and 2 1/2 for the back!
Last Updated